The Old Post Office
Our office, the Post Office, is a lot like us….firmly grounded in history and tradition. In a way, it precisely reflects our values and practice. To walk through our doors is to travel back to a time when quality and personal service mattered, when structures and relationships were built to endure for decades, and when a sense of community and stewardship was the bedrock of a strong society.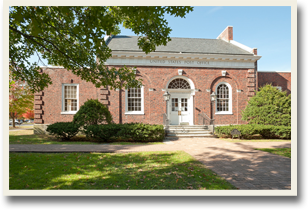 Famed architect, Mott Schmidt, designed the old Mount Kisco Post Office. As in many of his buildings, Schmidt deftly accommodated the requirements of modern life: a post office and municipal government office complex within the envelope of the 18th century idiom known as Georgian. Like many of his eclectic contemporaries, Schmidt demonstrated that with knowledge and creative adaptation, the style could not only endure, but also provide continuity with cultural traditions cherished by the residents of a town like Mount Kisco or Bedford, where he made his own home. This building compares favorably to other 1930s colonial revival public buildings, such as Cameron Clark's Town Hall in Washington, Connecticut, and Aymar Embury's Guild Hall in East Hampton, New York. Arched windows and classic lighting fixtures lend a welcoming air of old-world elegance. Inside, the building houses a grand piano, bronze postal boxes, and several historic WPA murals.
WPA Murals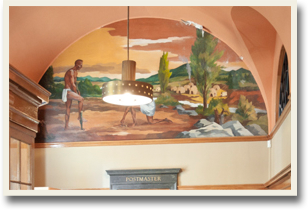 Back in the 1930s, 30 New York artists—nearly all from Manhattan—were among 19 sculptors and 44 painters designated by the Treasury Department's Section of Painting and Sculpture to beautify Federal buildings throughout the country. The project was part of the government-funded Works Progress Administration (WPA) project that President Franklin Delano Roosevelt created during the 1930s to keep artists employed during the Great Depression. The New York WPA, consisting of approximately 2,500 artists, was the largest in the United States. To be considered for the program, artists had to prove their financial need and their eligibility for the program. They submitted work samples as well as publicity, resume, or exhibition records to a panel of peers. Assignments were awarded based on the artist's training experience and ability. For their talent and hard work, the artists received approximately $23.00 to $35.00 a week.
One of the New York WPA artists, Thomas J. Donnelly, was chosen from among 147 painters to apply his brush to the walls of the Mount Kisco Post Office. His murals "Indian Cornfield" and "Village of Mount Kisco 1850s" were completed in 1936. Both reflect Donnelly's interest in impressionism, and still grace the walls today.
Donnelly was known for his landscapes, coastal scenes, murals, and portraits. His work was displayed in several national museums across the country, including the Whitney Museum of American Art. A resident of Valhalla, Donnelly was a member of the Art Students League of New York and later served on its board.